Hilmar Pauly, electrician, audio engineer, innovator, invented the arguably best pop filter in history:The Pauly Ton Superscreen.

"I decided I'd attempt freestyle rapping to test out this filter (I'm really not a rapper). At the Boom Room Recording Studio in Columbia, SC, I had a Neumann U87 at my disposal. While there are several cool mounting options for the Super.Screen, I decided to just use a spare mic stand we had standing in the corner and placed it about 4" in front of the Neumann. I pulled up the latest Pro Tools Session I had worked on and hit record. If you've never used Autotune, it's quite the experience. I ended up shouting some ad libs, really emphasizing on "P's", "B's" and maximizing the amount of air I was pushing out. Not only were my sub-par ad libs completely free of plosion, but they were crystal clear, as if they had been captured unimpeded. Upon holding my hand on the other side of the screen and blowing air, there was absolutely no air flow to be felt."
-Bryan from Front End Audio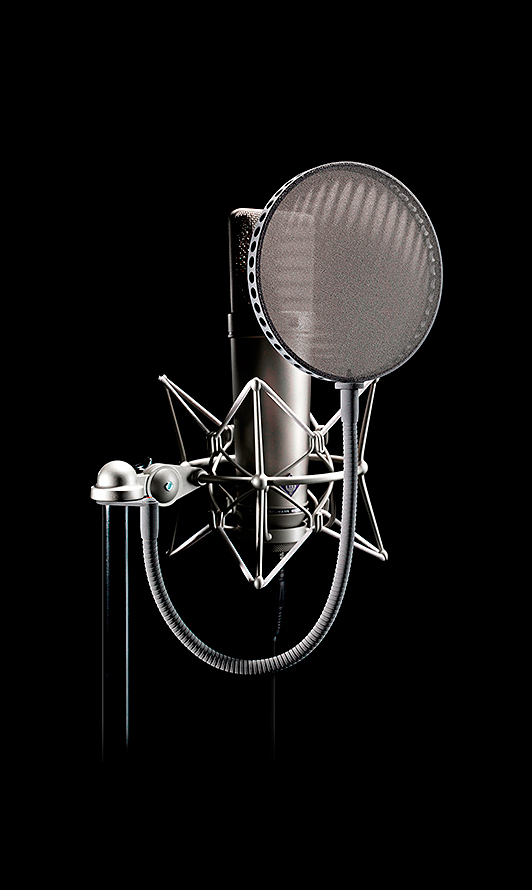 Dubbed "Gyro Gearloose" by paulyTon, the German sound engineer Hilmar Pauly often thought of the good old times, when recording techniques supposedly still sounded warm and sincere. And so, being substantially experienced as a precision mechanic, he developed the Pauly pop filter. Everything was handmade and all parts were crafted in Germany. He personally even manufactured all the machinery necessary for production.
Crafted with the greatest precision and care, the ultra-fine mesh of the Super.Screen easily disperses airflow and eliminates unwanted noise, while retaining a natural, true sound. Only the purest lead-free aluminum is used for the Pauly filter ring. When exposed to air, raw aluminum quickly develops a layer of oxide. This layer of oxide makes aluminum very corrosion-resistant at ph-values between four and nine. Furthermore, it does not possess any magnetic qualities unwanted in sound technology and has a very long durability.
On top of that, aluminum is more stable, much lighter and more solid than wood, plastic or other metals.
The Pauly Super.Screen, 5" diameter, has a perforated aluminum ring which is coated with sturdy two-component-paint. The ring holes are finished with a smooth edge, so any undesired air stream can silently and quickly escape. Two layers of super thin fabric are positioned at an acoustically suitable distance and applied under two different optimum tensions. In addition, the fabric on each side of the ring is aligned in a different direction. The Pauly Super.Screen comes in black or nickel.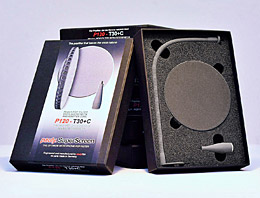 This is the combination box with the 12" gooseneck and Adapter Cone, providing various ways of mounting the Super.Screen. The special Pauly Adapter Cone lets you attach the filter to a separate mic stand. This completely isolates the microphone in use from any structure-borne noise that could be caused by the pop filter. Removing the metric reduction thread enables mounting on any 5/8'' U. S. thread. However, with the gooseneck, the pop filter is mounted on the mic stand of the recording microphone.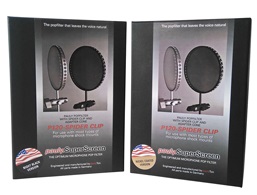 A neat, unobtrusive mounting alternative is the Pauly Spider Clip. It can be directly attached to any shock mount without any structure-borne noise. The Adapter Cone is included. The Gooseneck is not included. The P120 Spider Clip is available in Black or Nickel.