Introducing the New Presonus Eris Studio Family of Studio Monitors! Presonus has just announced the new and redesigned Presonus Eris Studio and Eris Pro Monitors! They've completely reimagined the Eris line of studio monitors and have made them better than ever. Presonus says the new Eris line of monitors deliver a powerful, accurate, and radically transparent sound. No matter whether you're recording, producing, mixing, or mastering, Presonus stands proudly behind their new Eris monitors. They've broken them up into a few categories but today, we'll talk about the Eris Studio and the Eris Pro lines.
Presonus Eris Studio
There are three versions of the new Presonus Eris Studio Monitors: Eris Studio 4, Eris Studio 5, and Eris Studio 8. They're all the same monitor, just different sizes. If you're working in a smaller project studio or bedroom, you might be okay with the Eris Studio 4 or Eris Studio 5. If you're in a bigger space, the Eris Studio 8 would be a better fit and give you a more accurate representation of the low end in your music. Presonus Eris Studio monitors feature a custom-designed EBM (Elliptical Boundary Modeled) waveguide that provides superior high-frequency response and wide 120-degree horizontal dispersion to create a broader sweet spot. Narrow vertical dispersion reduces reflections from your desk, and a 1.25-inch, silk-dome tweeter ensures snappy, accurate transient reproduction. An elegant new enclosure design improves the waveguide performance so you'll hear the finest details in your mix. The Eris Studio Monitors are equipped with Acoustic Tuning controls to ensure the flattest response in your mix environment. You get Low Cut, Mid, and High controls, as well as three-way Acoustic Space tuning that makes it easy to compensate for the boundary bass boost that occurs when a speaker is placed too close to a wall.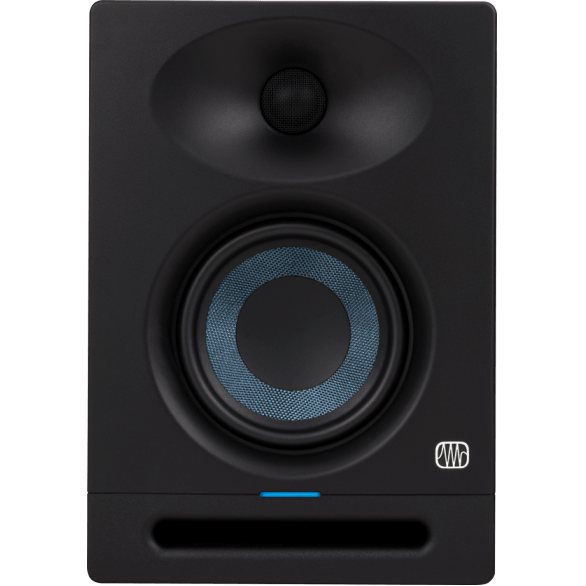 Presonus Eris Pro
Presonus Eris Pro is the higher up or "big brother" line of studio monitors. They're available in two sizes: Eris Pro 6 and Eris Pro 8. There's also an Eris Pro Sub 10 which is a new and improved subwoofer design from Presonus. The Eris Pro monitors are a coaxial design. This provides a single acoustic point source that creates a natural listening experience, revealing the subtlest nuances in your recordings, while providing a three-dimensional soundstage, detailed transient response, and lifelike sonic reproduction. Combined with a punchy low-end that defies its compact size, the Eris Pro 6 provides a superior listening experience for both home studios and professional mix rooms. Their symmetric design and consistent acoustic center provides superior phase alignment between components to deliver a wide sweet spot, precise stereo imaging, and symmetrical dispersion patterns, making them ideally suited for immersive Dolby Atmos rooms and stereo mix environments alike. Like the Eris Studio line, you're also able to tune the Eris Pro line to your room with similar controls on the back.
Powerful and musical, the PreSonus Eris Pro Sub 10 active, front-firing studio subwoofer is designed to deliver fast and accurate transient response, extending low frequencies down to 20 Hz, allowing you to hear the full-spectrum range of your music and take control of your mix. Eris Pro Sub 10 complements full-range monitors without overshadowing them and extends the reach of your full-range system's low end with a natural sound.
The new Presonus Eris Studio and Eris Pro Monitors and Subwoofer are available now for purchase at Front End Audio! If you have any questions about these or any other Presonus products, give us a call! We're here to help!