Audio Mixers aren't only for Live Sound, they're great tools for the recording studio! These days, we're all using some sort of recording Audio Interface and when we see an audio mixer, we usually think about Live Sound. We think about the small audio mixer at our rehearsal space, or the fancy mixing consoles Live Sound engineers use to mix live shows. It's not often that we see audio mixers incorporated into recording studio setups. Why not? They're simply small format Studio Consoles - with the same workflow and features many of our heroes started on and still use to this day! Audio mixers can bring a lot of value to your studio and if we're being real, they're often more affordable than the popular audio interfaces. They've also come a long way in terms of build quality and sound. That being said, I'm not suggesting you replace your Universal Audio Apollo, Apogee Symphony, Lynx Aurora, or Focusrite audio interface. I just want to cover a few ways you can incorporate an audio mixer into your studio.
1. Tone Shaping While Recording
Most audio mixers have EQ built onto every channel. Even if it's only a simple low and high band EQ, these can be very helpful in crafting the exact sound you want to record. Most of the time, you also will have a compressor for each channel that will help you limit the dynamics of a performance on the way in while recording. Utilizing a mixer's EQ and compression on the way in will help you to get the sounds you want and save on your computer's processing power. This is a cost-effective way to get some analogue EQ and Compression on the way into the computer! Imagine having a 12-channel mixer, all with EQ and compression.
2. Audio Mixing
The onboard EQ and compression also can serve well in mixing! Simply send and return tracks from your DAW to line inputs on your mixer and you're now mixing in a hybrid workflow. Some mixers like the Solid State Logic SiX Desktop Mixer and Solid State Logic BiG SiX Desktop Mixer also have a bus compressor on board! Some even have a master EQ section! If you really want to get creative and have some fun, many mixers have built in effects like Reverb, Delay, and Modulation. You could even use your mixer like a mini mixing console. Just be sure to get a mixer with enough channels and route your signals to and from the mixer and you'll be pushing up faders and getting the right balance in no time. The best approach to be sure you have room for everything on your mixer is to balance and bus everything in your DAW and then send groups to your mixer channels. That way you're making the big moves with your faders and micro balance adjustments can stay in the DAW. Mixing with hardware is fun and a mixer could be a great place to start!
3. Blending Microphones & Committing
Have you ever used two microphones to record a single source like a guitar cabinet? Or multiple cabinets? It's a great way to get a unique sound as long as you get the phase right! Sometimes though, we make the mistake of giving ourselves too many options in the mix rather than capturing the exact sound we want and committing. Why have both of those mics on separate tracks in our DAW taking up space and giving us too much too look at and yet another mix decision to make. We can get it right now and commit! If you use two channels on a mixer, you can use the faders (which is fun), get the blend just the way you want it, and record the stereo output into your DAW! You can even use the mixer's onboard EQ for one or both channels. Most mixers also have a phase button on each channel so you're able to quickly check the phase as well.
Bonus tip: Some mixers like the Presonus StudioLive Digital Mixers integrate with your DAW! The StudioLive Digital Mixer integrates with Presonus Studio One as a control surface and has a ton of control and routing options.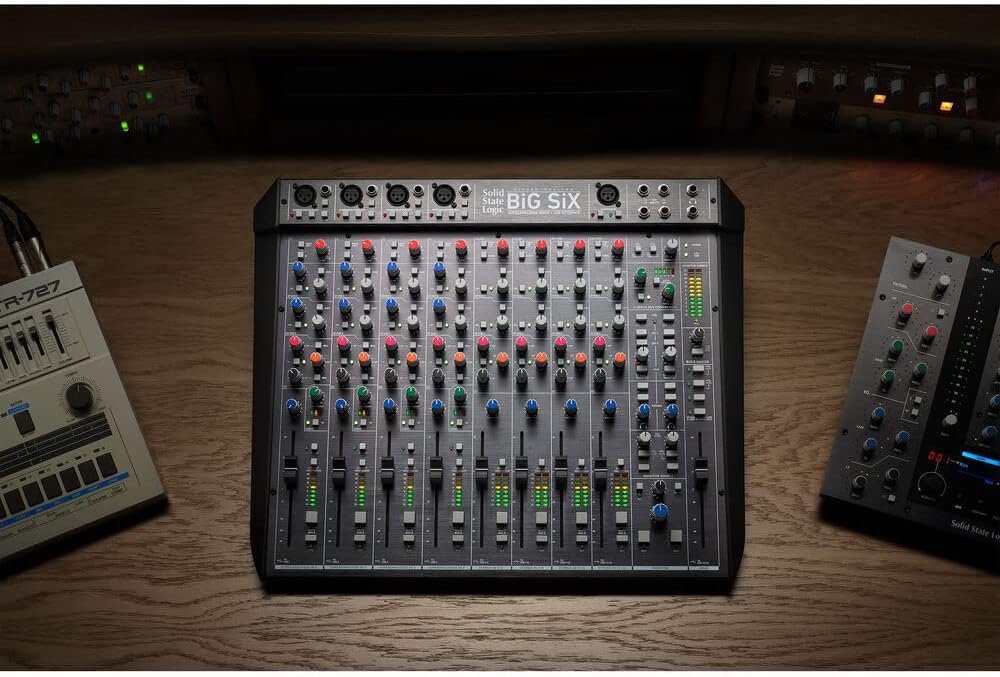 Audio Mixers certainly have a place in studios! As I mentioned before, they're just smaller format recording and mixing consoles! We have a lot of great options to choose from here at Front End Audio! Here's a list of some of our current favorites! Note: Some of these have different versions with more or less I/O and features.
Larger format consoles are also available! If you have any questions about mixers or would like some help finding the best fit for your needs, give us a call! We're here to help!