REGULAR JOHN RECORDING has been hand-building custom high end outboard recording equipment since 2007. Over the years, we've discovered some of our customers have purchased custom pieces of Regular John Recording devices and spoke very highly of them. There are hundreds of units out there in the wild, now. But as of 2016, Front End Audio has been offering the incredibly feature packed Regular John Recording BAX Stereo Mastering EQ for sale through our site. With superb build quality, and a bevy of additional features not found on many (if any) other bax equalizers, the Regular John Recording BAX Stereo Mastering EQ really makes for an attractive device to have on your master-buss for mixing, and certainly for mastering applications.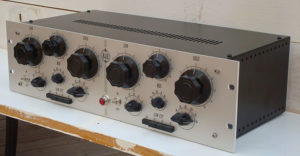 Regular John Recording is still growing, and their wares have been used by a wide variety of clients, from hobbyists to Grammy-winning producers and engineers, and more.
Each Regular John Recording unit is hand-built one at a time, in the USA.