Studio One 6 is live! Presonus has just announced a new Studio One update, PreSonus Studio One 6 Professional Music Production Software! Some of us here at Front End Audio are Studio One users and we're really excited about this new update. It's packed with a lot of new features and we'd like to share some of them with you!
Here are TEN big new features in Studio One 6:
Customizable user interface. The new Customization Editor in Studio One 6 provides a convenient and easy way to show or hide nearly all tools and functions. Changes are applied instantly and settings are saved, so you can show or hide any feature as needed to create a streamlined, focused workflow for the task at hand
Smart Templates. Smart Templates provide essential toolsets for basic recording, beat making, mixing stems, mastering an album, podcasting, setting up a live show, and more. Templates can even include step-by-step guides, as well as a convenient drop zone to easily import needed content like audio, video, and MIDI files.
Global Lyrics Track. Add lyrics to your scores, songs, productions, and live performances with the all-new Global Lyrics Track! Whether you're assigning words or individual syllables to notes with the Score Editor or adding lyrics as guideposts to your audio productions, you'll find a use for the Lyrics Track.
Global Video Track. Elevate your video content! The all-new Global Video Track provides an intuitive video workflow thanks to the familiar drag and drop functionality that made Studio One famous. Basic video editing features include: cut/copy/paste, slip, time and edit locks, ripple, duplicate, and replace.
Track Presets. Track Presets store both track and channel parameters to recall for later use, and are even compatible with groups of Tracks or Folder Tracks. On top of saving and loading, Track Presets can also be applied to existing channels. Channel settings are applied to any selection for both Audio and Instrument Tracks.
Advanced Collaboration with Presonus Sphere. Studio One 6 deepens the integration between your desktop application and your Presonus Sphere Workspaces with convenient sharing options and sync options right from the drop-down menu.
Improved ProEQ3. Each frequency band can now be soloed, so you can easily hear even the most surgical adjustments in isolation. In addition to solo, each band now features a dynamic mode to trigger boosts or cuts of the desired frequency band dynamically based on a set amplitude threshold.
New De-Esser. Tame vocal sibilance and other high-frequency sounds with the new De-esser. The De-esser in Studio One is efficient and intuitively easy to use. Find the problematic frequency with the Listen button, then dial in the amount of S-Reduction using the associated knob together with the S-Mon function.
Advanced Mixer with Fader Flip. Studio One's Console supercharges mixing with the new Fader Flip. Control FX/Bus sends, sidechains, and Cue Mix sends all from the main faders. Fader Fip is easy to access, too. Just right-click on the desired send and select "Flip." Now the entire send mix for the selected bus can be controlled from the channel faders. Unassigned channels can be hidden from view or activated as needed.

Alternative Panning Modes. Stereo channels now feature a choice of pan modes. You can choose between balance, dual or binaural panning for any stereo channel. The new panner pop-up editor provides a large pan control, a context menu to switch between modes, plus dedicated controls for each mode. The basic balance control remains available in all mixer views, as well as a standard pan control for external hardware controllers.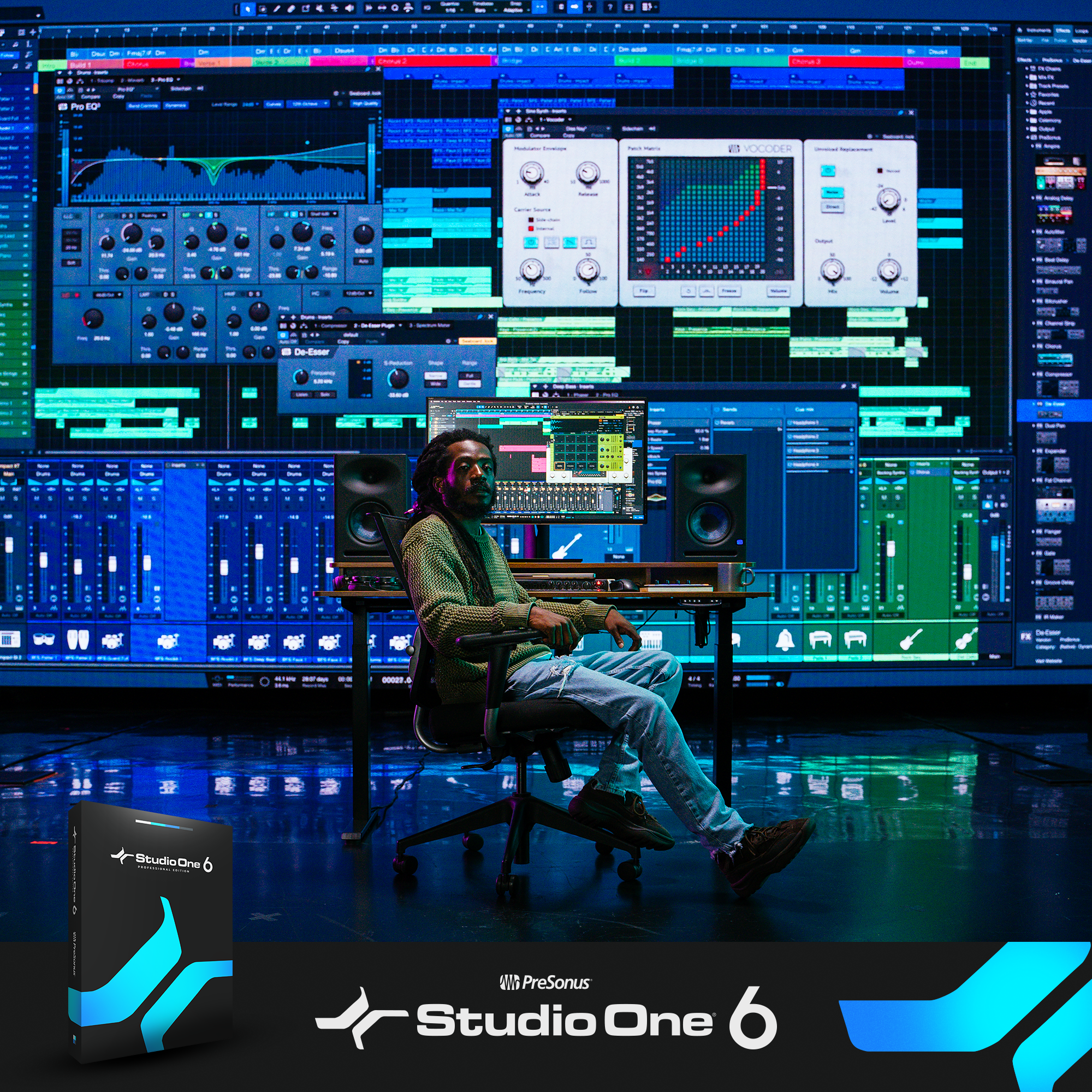 Other Nice Additions:
Sends on FX channels, allowing the output signal of one effect to be sent to another
Sidechain audio input for virtual instruments
Bus, FX and Cue Mix sends now have the option to link panning to the channel pan control. Cue Mix sends provide independent link options for Volume and Pan.
Micro view control for third party plugins
Track and channel icons
Spot option for Events offers a number of options for positioning Events on the timeline based on attributes such as start/end points or their original timecode position.

PreSonus Studio One 6 is available now for purchase at Front End Audio! There are two versions: Studio One Professional (Full Version) and Studio One Artist (More affordable and slightly limited version - great for anyone new to Studio One).
Upgrades are available from previous versions! If you're currently using another DAW and want to switch over to Studio One 6, we also have a Crossgrade available at a discounted price!
From mixing engineers to singer-songwriters, bedroom producers to content creators, Studio One 6 is the most intuitive and flexible upgrade yet. If you have any questions about Studio One 6, give us a call and we'll be happy to assist!