SUNSET SOUND is a studio with a name synonymous with the legends of rock and roll and their albums that we love so much. But what Sunset sound is also synonymous with is a passion for developing their own recording consoles and equipment distribution for lines such as Smart Research. In celebration of their 50th Anniversary a few years ago, Paul Camarata brought in famed studio console and electronics designer Paul Wolff (API, Tonelux, Fix Audio) to help adapt the console preamp from the famed custom console in Studio 1 into the 500 series, resulting in the Sunset Sound Tutti 500-Series Microphone Preamp - named for Sunset Sound founder, Tutti Camarata.
After having tested many, many, many different preamplifiers of varying budgets and design characteristics, the Sunset Sound S1P "Tutti" is one of our very favorites. Why? Well, all of the hallmarks one looks for in a truly great sounding preamp are packed into this module.
Build Quality - It is built to live through a nuclear strike. Hopefully we never have to test this theory. But given the almost comical thickness of the faceplate, we're pretty sure that we're on the right track. After all the S1P weighs five pounds - and it's all IRON (transformers).
Discrete Op-Amps - The S1P Tutti is a gound-up, custom dual-stage design, utilizing a pair of the legendary 990C Discrete Op-Amps built by the venerable John Hardy of The Hardy Company. The preamp is Sunset Sound's own in-house design, made with collaborative help from Deane Jensen - hence the 990 discrete-op-amp design. For those who don't have much experience with equipment design and who may be wondering why an operational amplifier (op-amp, for short) would be called discrete, this is a term used to describe individual electrical components. This is opposed to an IC, or Integrated Circuit which is physically manifested as a chip with multiple pins. While there are some very good IC chips on the modern market, there is a purity and wide-open sonic characteristic that is quite evident with discrete designs. And the 990 is a design which has stood the test of time and continues to be a favorite choice when designers move to make a super-preamp. But few, if any, exhibit the smooth satisfaction you get from the S1P.
Premium Quality Transformers - CineMag is a company born out of a history as rich and synonymous with the history of the Los Angeles sound as Sunset Sound. Ed Reichenbach's transformer designs were a cornerstone staple of many audio devices when manufactured under his own Reichenbach Engineering banner. Ed's son Tom grew up making transformers with his dad and ultimately formed CineMag out of the Reichenbach shop in 1979. The S1P Tutti utilizes nickel transformers, input and output. Their sound is very musical and their integration into the circuit imparts an ear-tinglingly musically interesting characteristic.
Front End Audio reached out to Paul Camarata to give us the scoop on the original Jensen transformers and why there are CineMag transformers inthe S1P. Here's what he had to say:
"The transformers we originally used throughout the consoles & mic pre's were Jensen but manufactured by Reichenbach . Jensen did not make these and farmed them out with our specific specification to manufacturer Reichenbach as was customary back then. In our reissue S1P mic pre we use Cinemag transformers for input & output stage but actually they are the old Reichenbach company - but use that name now. We had them dig up our original design spec's that were like 35 years old in their archives and use the same nickel core with the windings as specified. We got samples from them and put them in our old mic pre's out of the console and did extensive listening comparisons. At first they did not get it right but after some revisions the transformers are identical to our original design and what's in our console! I hope that clarifies that these are the exact same design as specified almost 40 years ago."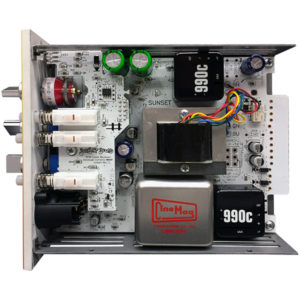 Frequency Linearity - The discrete design really shows off here. 10Hz to 60kHz... FLAT. Seriously - this is every bit the frequency characteristics that you want from a microphone preamp. Plus, it is worth noting that this is an extremely low-noise and low-distortion design.

High Headroom - The S1P clips at +28 dBu. This means it can take a lot of overshoot, meaning that it won't suddenly give you a hard and fast *crunch* on a transient. A design of this sort usually gains gradual shades of enhanced harmonic content as they approach to peaks of their limits.
Low Distortion - Similarly, the design was focused on very low distortion characteristics. As a result, the S1P has less than 0.02% distortion. In case you don't already know, that's VERY good performance.
Gain Staging Flexibility - The Sunset Sound S1P Tutti has over 60dB of gain. But it achieves it in interesting ways. The first way is via a Selectable Input Gain, pasrsed out in 10dB steps. Next is the Trim, giving you +/- 6dB of smooth adjustment in-between those 10dB steps of the Input Gain. Lastly, just as how you would find it on the console, you have an output "fader." We particularly like this feature as you can either turn it all the way up (no attenuation) and then adjust the input for clean preamplification. However, if you go the exact opposite route, then you get the opportunity to drive the circuit, which results in very interesting opportunities for overdrive and distortion characteristics. You'll really do much of your living with the S1P Tutti set somewhere in between the two.
Convenient Front XLR Combo Jack for MIC Input w/ Hi-Z/Instrument Input - In addition to its traditional 500 Series I/O configuration (handled by the host 500 Series power supply rack of your choice), the project studio owner benefits from easy access to simply plugging into the front panel of the S1P "Tutti". So, cutting vocals in the control room, or laying down a bass or keyboard part are processes made super-easy by this feature.
THE SOUND - Here's what matters. While describing how a preamp sounds is a bit like "trying to dance about architecture," the S1P Tutti strikes the perfect balance of soft, full and rich tone, which also delivers a whalloping punch of the most drool-worthy American muscle car / California Hot-Rod - but one with all the stately refinement of a Rolls Royce. The character is not overbearing - meaning, its character is extremely complimentary. In fact, it's easy to see why Studio 1 stays booked; it's been the only place to get "that sound." It is a character which will play nicely to glue all of your tracks together into a very pleasing cohesion. The opportunity for musical synergy is highly elevated by the S1P Tutti.
There's a lot to love about Sunset Sound - and the Sunset Sound Tutti is certainly one of them. Front End Audio is proud to offer this inspiring sliver of historical circuitry with convenient modern features like its front panel XLR input (great for overdubbing in the control room) to our customers.