Warm Audio WA-14 Stereo Pair NOW at Front End Audio! We are happy to announce the the Warm Audio WA-14 Condenser Microphones (Stereo Pair), an authentic recreation of the most truthful studio mic of all time, but now in a sequential pair - it' a full recording kit!
Warm Audio, the leading manufacturer of faithful recreations of legendary recording gear, announces the addition of the WA-14SP, a sequential stereo set of the WA-14 mic, an authentic recreation of the ultra-rare unattainable "EB-circuit" 414-style microphone, the most truthful studio mic of all time. The WA-14SP provides a stereo pair of WA-14 mics loaded with an all-brass, CK-12 style capsule, variable pad, and three polar patterns. Ideal for capturing the natural sound of performances with minimal coloration and smooth high end, the WA-14SP achieves present pianos, punchy guitars, clear overheads, and a natural stereo image…all in one affordable package!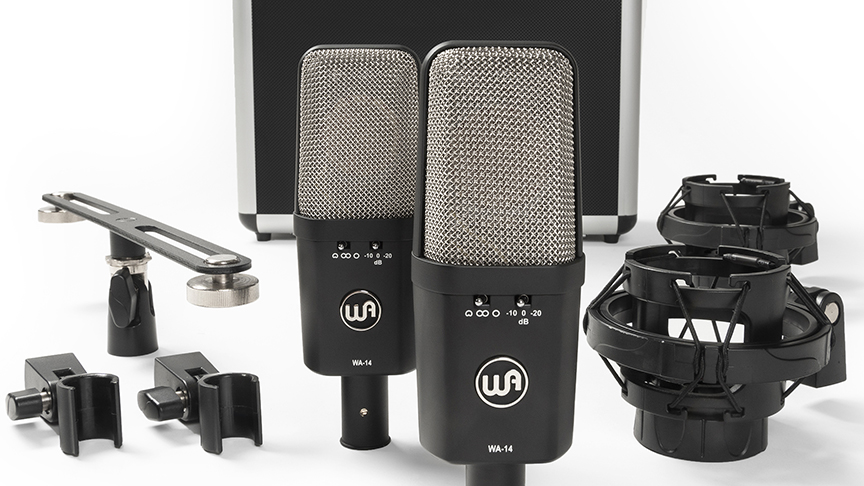 The WA-14SP ships as sequential pairs and are tested to ensure each mic is within +/- 1dB of each other, delivering consistent performance for stereo recording applications. The WA-14 achieves the same sonic performance of its original "EB" inspiration, delivering clear mids, controlled bass, and accurate high-end emphasis for recordings that stay true to the original performance. The full stereo kit includes a custom flight case, two WA-14 Mics, two shock mounts, two hard clips, two durable travel pouches, and stereo mounting bar!