Is there anything particularly special about a Wednesday? Sure, it's the middle of the week and you're only two days away from a weekend. But, there doesn't really seem to be anything great about Wednesdays. Nothing wrong with them, but ultimately – just another day. Well........ unless something cool happens.
Good example of that, is the visit we got from the fine folks of Presonus. They swung by the offices here at Front End Audio, and gave us some hands on with the Presonus AIR and ULT loudspeakers – as well as the new StudioLive Series (specifically the 32 channel model). What was originally just a little show and tell demo, turned into an impromptu mixing session. There is no better way to learn something, and really get to understand what it can offer, than to get your hands dirty. So with some playback from a multi-track performance, we dove in hands first and started mixing away. With the Presonus AIR12, AIR15, ULT12, and ULT15 loudspeakers; along with the ULT18 Subwoofer at our disposal – there wasn't anything we couldn't accomplish in getting a great sounding mix.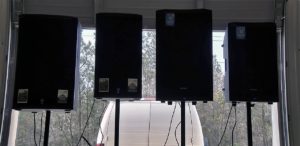 The AIR series loudspeakers are Presonus' "bang for the buck" loudspeakers. But, only due to the affordable price point. Personally, I don't think the phrase "bang for the buck" is truly appropriate, because the performance is significantly better than what the price tag would lead you to believe. They're more of a steal. The Air loudspeakers are first of quite light weight and compact. Really anyone can pick them up one handed and put'em in the back seat of a sedan (you'll probably want at least a compact SUV if you have a sub). The speakers have built in DSP that allows controls for optimal performance, and feature the right types of inputs and connections.
The thing about these speakers is how great they sound. They have a solid coverage spread, accurate lows (that you can really hear), a natural mid range (no mud or boxiness here), and a crisp detailed top that cuts. The big thing that change when bringing in a sub was more that you could now feel the bass, and the difference between the AIR12s and AIR15s is really in the coverage. The AIR15s give you a bit bigger presence, and a bit more mid fullness. The right one between the 10's, 12's, and 15's – I think is all about the size of the room you need to cover (of course the AIR 10's are killer for wedges).
Now the ULTs are Presonus' higher end line. Where the AIR utilize a molded enclosure, the ULTs ultilize solid Birch cabinets. The first thing you notice is in the top end. You get clear detailed highs, but the transients are a touch rounded, and a bit sweeter to listen to. The next thing you will hear, is that they are fuller and taller. The sound stage just increases with the ULT, but then again – they do have more powerful amps in them. That is well understood, when you pick them up........... notably heavier (but not too heavy to throw in the back of a compact SVU and kick it to your gig).
The thing I really liked about the ULT18 sub, is that it was natural. There was not this over the top sense to things. It simply filled out the foundation of the music, and gave you a bit of a warm vibration in your body. It made the music come to life – expanding the sound stage, and letting you feel the music. No mud, no wool, no nonsense – just good natural rounded bottom.


The StudioLive Series III consoles are very cool. They exhibit the proper path of evolving that system. The Series III consoles provide an expanded yet simplified workflow, a more intuitive layout, bigger badder Phat Channel, clean and clear (large) touch screen for navigation, and control via a linked iPad – with a place to rest the iPad to double as a second touch screen. It took no time (with first hands on) to get to mixing with great results. With the new modeling editions to the Phat Channel, such as the Tube and FET compressors, and Passive and Tube Eqs, it was fast to dial in great sounds. DCA groups and touch screen navigation provided a very fluid experience, that felt natural. Of course having the ability to capture those mixes to an SDHC card with the onboard Presonus Capture multi-track recording software was really cool. And, the Series III consoles (for all the powerful features it has) also look very nice and sleek.
You can see the power in what Presonus is doing with their StudioLive brand. With their loudspeaker systems, StudioLive consoles, and multi-track software (mainly Studio One) – you have a completely integrated and intelligent system. Load your StudioLive console and AIR or ULT speaker system in your car/SVU/van, go mix and multi-track a great show, bring it all home and load it into Studio One (with your StudioLive console as a control surface), and edit – mix – master – and release great music to share with the world. Presonus has created a very special network here, and they are bringing a lot of great features and quality to these systems. Definitely keep your eyes on the StudioLive series of Presonus products. Whether you are a freelance engineer, traveling indie band, music venue/club, or house of worship – StudioLive offers what you need.