Phoenix Audio Visits Front End Audio - Check out the Theata Instrument Preamp! Robin Ashley of Phoenix Audio stopped by Front End Audio today with the brand-new Phoenix Audio Theata Instrument Preamp. Phoenix Audio and Front End Audio have worked together for many years and we absolutely love their gear. So much so, that we enthusiastically use Phoenix Audio in our personal studios! Ryan centers his home studio around the Phoenix Audio DRS-8 MK2 Microphone Preamp and Wes uses the Phoenix Audio Ascent One EQ and Preamp in his studio. When considering the quality and usefulness of the gear, it a no brainer to include a piece or two in your studio. So, let's take a closer look at each of these units: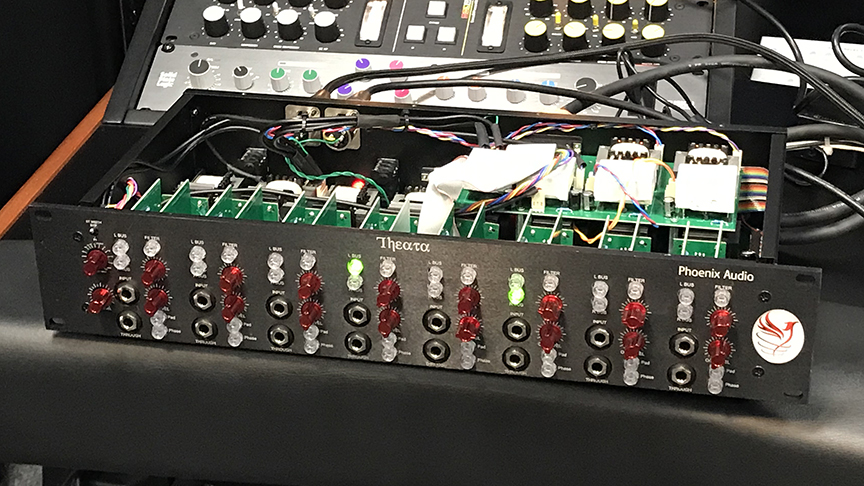 The Phoenix Audio Theata Instrument Preamp (the name inspired by the 8 th letter of the Greek alphabet - Theta) is truly a unique product custom designed for the studio, live & broadcast markets.It features 8 channels of instrument DI and amplification. But it can do much more than that. In addition to the instrument preamps with Thru Puts, the Theata has direct outs on every channel (via a DB25 on the back), a stereo output over two XLR connector – where every channel can be assign to the Left, Right, or both, a master out volume for the stereo out, and a stereo width adjustment for the stereo out. Each channel, plus the stereo out, has Phoenix Audio's proprietary output transformer, allowing you you drive each channel and get even more character than their Nicerizer Summing Mixers, and each input can accept line level in – so this can be used as a pre-mixer mixer (or pre summing summing mixer). All of this on top of the fact that is solves the "I have a bundle of synths and limited inputs, so I need a device to combine all my synths to a stereo feed" problem.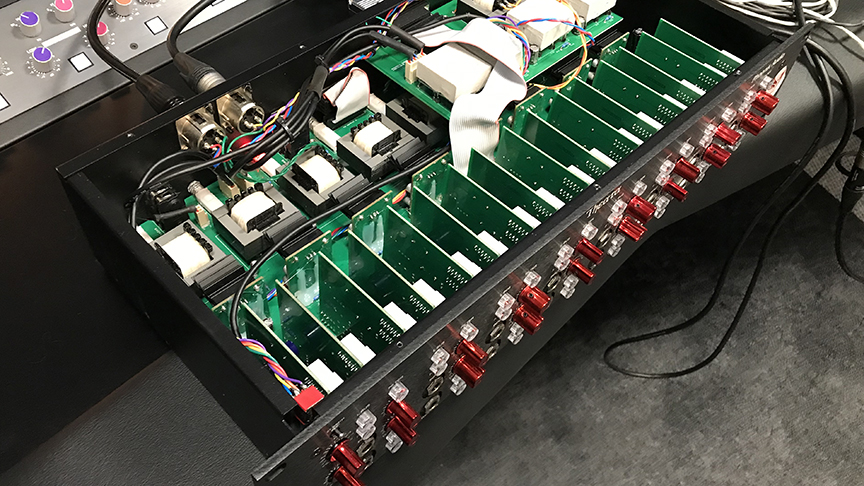 The Phoenix Audio Ascent One EQ and Preamp combines Phoenix's High Fidelity sound, with the rich harmonics of their custom output transformer, along with they Gyrator EQ, to give you a magical recording channel strip that has a unique modern British tone. Per Wes "The Phoenix Audio Ascent One EQ and Preamp is my go-to preamp for just about everything. I love how flexible it is with it's ability to go from ultra-clean to warm and saturated like old school Neve preamp thanks to it's output transformer. The input stage is transformerless, allowing for a fast and open sound. It's got this high-fidelity thing about it that I love and with the built in four band Phoenix Audio Gyrator EQ, I'm tracking things the way I want them to sound in the mix with ease. It's also a great unit for mixing to get your tracks out of the box and processed with some nice analog color."

The Phoenix Audio DRS-8 MK2 Microphone Preamp uses the well proven and loved Class A Phoenix output stage, along with the latest in transformerless Class A, Discrete Mic Input Technology which gives a valve-like sound. Per Ryan "The Phoenix Audio DRS8 MK2 8-Channel Microphone Preamp is an integral part of my home studio. It is the core front end for all guitars, synths/keys, and acoustic instruments that I record. The DRS and Ascent mic pres have a tone of head room, and a subtle yet rich character that I describe as an hour glass sound. It has an open airy top end, with tight balanced mids, and a big dimensional bottom, all topped off with the saturation of their signature output transformer."

So in conclusion, YES we are huge fans of Phoenix Audio and we are always excited to see new units hitting the market. Phoenix Audio has put a lot research, design and time into the Theata and have created one of the most flexible boxes they offer, all with the sonic characteristics and build quality we know and love. It's always great to spend time with our vendors and get to talk face to face, as well as get hands on time with the gear. So, it was a blast hanging out with Robin and getting time with something new and cool. If you have any questions about the new Theata Instrument Preamp, or any of Phoenix Audio's other products, give us a call! We're here to help!