New Universal Audio UAFX Pedals: Heavenly Plate Reverb, Evermore Reverb, Orion Tape Echo & 1176! Universal Audio has expanded their guitar pedal offering with four new pedals that offer a more focused purpose in a conveniently compact format. All part of their UAFX line of guitar pedals, these more straight-forward pedals expand on featured effects of previous larger pedals (like the Starlight and Max). In the new offerings are the Heavenly Plate Reverb, Evermore Reverb, Orion Tape Echo, and 1176 Compressor pedals.
Check out the Universal Audio UAFX Mini Pedals in our "Out Of The Box" series here at Front End Audio where we take a quick look at these brand new pedals, the features and what you can expect when you open up the boxes!
The Heavenly Plate Reverb offers three different plate reverbs: Vintage Bright, Vintage Dark, and Modern Full. You can further tweak each to tailor the tone to your liking. This pedal can be quite versatile! A bright plate with a short decay and slightly longer predealy (to give a crisper slap like character) can be great for clean electrics playing more percussively, or playing more "funk" styles of music.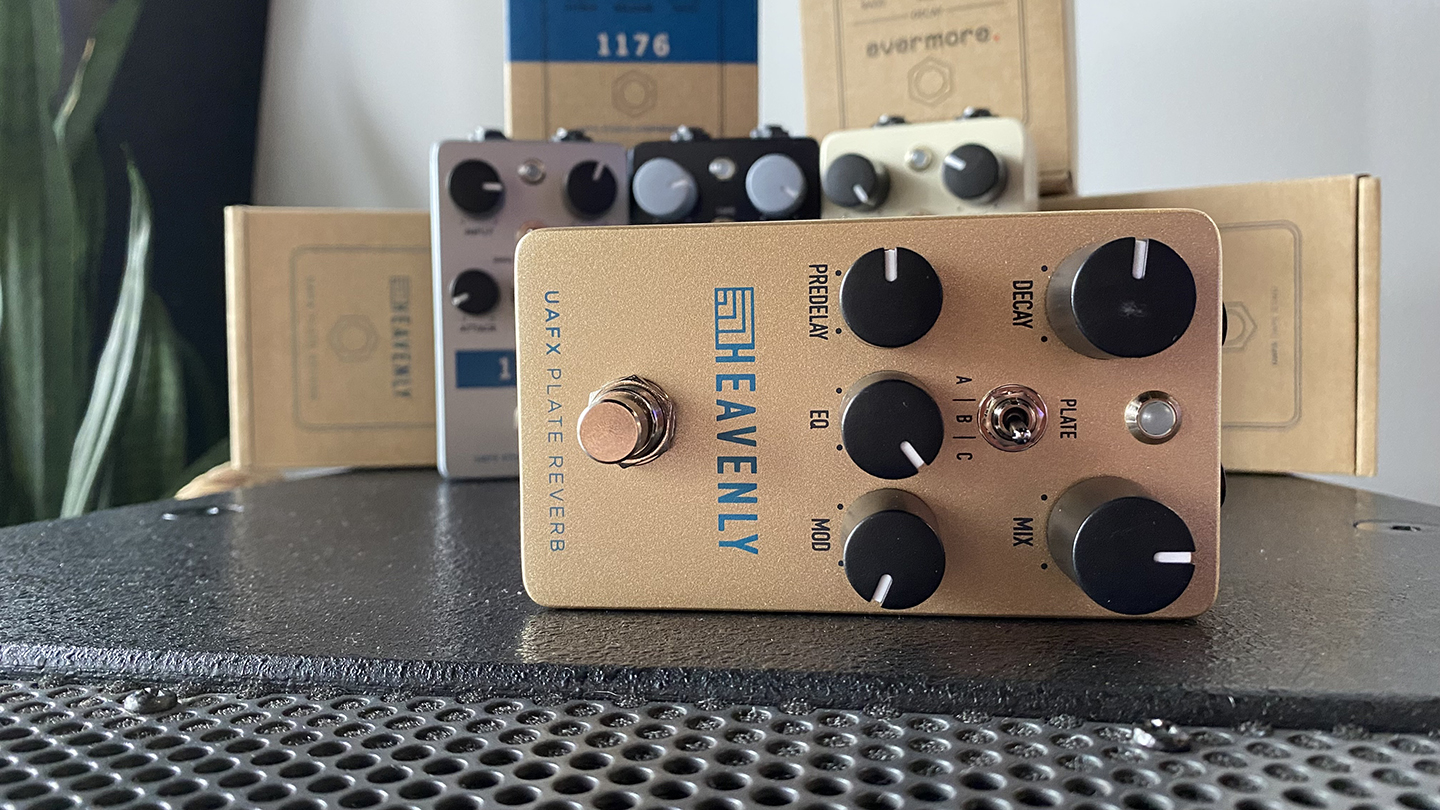 The Evermore Reverb offers more of a traditional reverb that is musical and smooth. It is great for clean or distorted guitars, particularly clean melodies (picking), and rich blusey or jazzy toned distorted guitars. The Evermore provides a tight Room reverb, as well as a Small and Large Hall reverb – all which can be tweaked with the three band EQ, as well as mix and modulation controls. If you like rich reverbs, this pedal is for you!
The Orion Tape Echo offers gives you a lot of creativity. You can go subtle, or outright crazy (to a psychedelic Primus level crazy). The Orion provides three grades of "Tape", from Mint Condition, to Old, and Worn. These interact directly with the "Wonk" (Or Wow and Flutter emulation), and you can add further character with the "Record Level" which emulates tape saturation to distortion. Then Adjust you Delay, Feedback, and Mix (Wet/Dry blend) to hone in the vibe you want. This is a deep pedal!
The 1176 Compressor is well, you guessed it...... a 1176 emulation pedal. Specifically, it emulates the Rev E as a single comp (in Single Mode), two Rev E's in Series (in Dual Mode), and two Rev E's in Series L.Feat Style (in Sustatain Mode). Use the controls to tweak and set up the compression as you normally would (with Attack, Release, Ratio, In and Out gain). The 1176 can add control, dynamic punch, or fat evenness. Since FET comps sound amazing on guitar, and the 1176 has long been used to make guitars sing louder and come to life, having this emulation pedal is a great addition to a pedalboard!
These new pedals are in stock and ready to ship from Front End Audio! As always, if you have any questions on these four new pedals from Universal Audio or any of their other gear, hit us up. We are here to help!