Cranborne Audio has just announced the new Cranborne Audio Carnaby 500 Equalizer! This is a 3-band parametric EQ with a unique Harmonic EQ circuit for harmonically enhanced tonal effects! This will help you enhance your sources, stems, and mixes with genuine harmonic. saturation with the feel, control, and familiarity of an equalizer. Unlike a lot of other EQs, Carnaby 500 has a dynamic response. Meaning, increases in total boost/cut and harmonics as the circuits are driven harder. An Input and Output level control on each band allows for ±20dB of level adjustment enabling you to drive Carnaby 500 harder with the input control for more saturation and distortion effects or even back it off for a cleaner EQ when needed.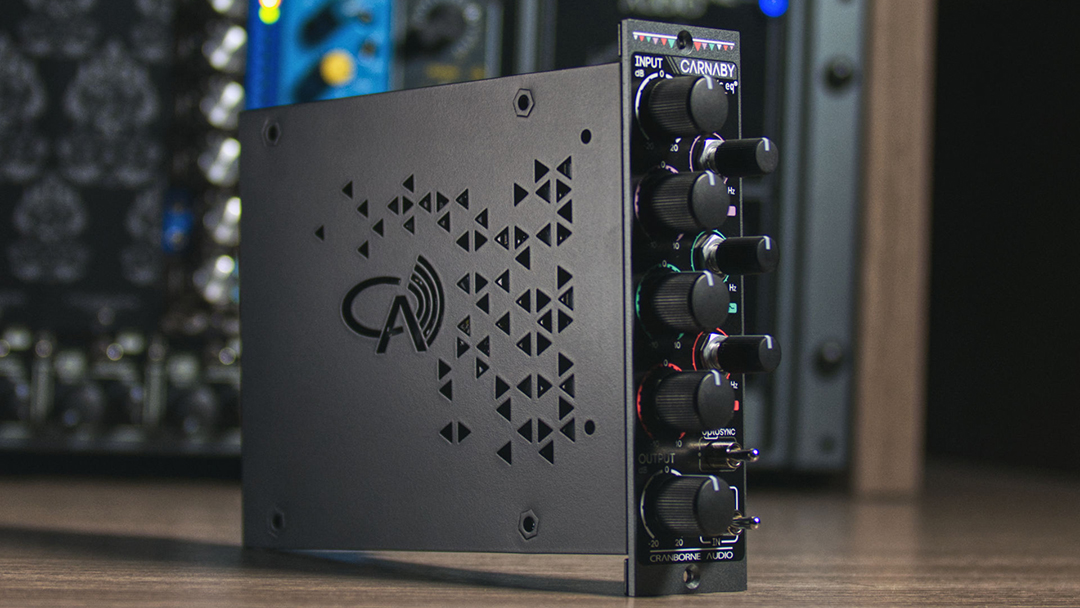 Key Features:
3-band, 500 Series Harmonic EQTM meticulously developed by the Cranborne Audio team in the UK
Custom analogue EQ circuit and unique 'saturation-core' technology for Harmonically-enriched EQ effects
Parametric peaking MID band with ±10dB of cut/boost, fixed Q and harmonic saturation
Parametric LO and HI shelving bands with ±10dB of cut/boost and harmonic saturation
Parametric peaking MID band with ±10dB of cut/boost, fixed Q and harmonic saturation
LO, MID, and HI LED indicators to display saturation level
±20dB Input and Output Level for dense harmonic saturation or clean EQ effects
OptoSync wireless communication between modules for linked controls during stereo operation
⅛" TRS socket for linking non-adjacent modules
Circuit auto-calibration for perfect stereo matching between all modules
True-bypass IN/OUT switching with complete or post input trim modes available on DIP switch
Stepped, front-panel controls for quick recall and precise feel
The Cranborne Audio Carnaby 500 Equalizer is the first of it's kind and we're SO excited to check this out for ourselves. The Carnaby 500 is also available as a Cranborne Audio Carnaby Stereo Pair! Be sure to grab a pair of these for use on you mixes, masters, or even just stereo tracking applications like piano. Units are expected to start shipping in late May 2023. If you have any questions about the Cranborne Audio Carnaby 500 or any of Cranborne Audio products, give us a call at Front End Audio. We're here to help!