Are you a musician, producer, or recording engineer looking to recreate the iconic Motown sound? Look no further than the Acme Audio Motown WB-3 Passive Direct Box specifically designed for capturing that signature vintage vibe and one of the most recognized bass sounds from the funk era. The natural break up and distortion of this box will make you feel like you are sitting in on a Bob Babbitt session, it's just plain awesome! But the WB-3 isn't used just on bass, with the attenuation pad you can plug in your synth rig to take advantage of the warmth and saturation of the transformers. With the Motown WB-3, Acme Audio has revolutionized the way artists can achieve that classic Motown tone!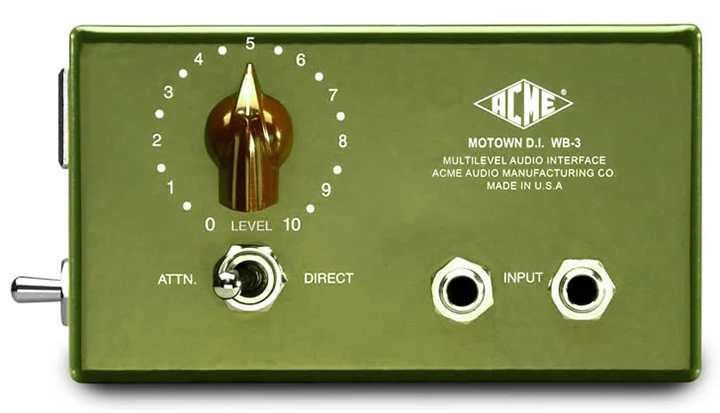 The Motown WB-3 is meticulously crafted to deliver warm and rich tones, reminiscent of the legendary performances by artists like Marvin Gaye and Stevie Wonder. Its dynamic range and frequency response make it perfect for capturing every nuance, while still maintaining that unmistakable Motown feel. Providing pristine signal processing and versatile connectivity options, the WB-3 ensures an effortless integration into any recording setup.
The Acme Audio Motown WB-3 has a street price of $449.00. If you have any questions about the Motown WB-3 or how to integrate this into your studio, just reach out and Front End Audio is here to help!