Triad-Orbit is known for making high quality, and innovative mic stands and mounting accessories. The Triad-Orbit line offers a ton of powerful and flexible stands and mounts to really serve any need imaginable.
A great example of this is the Triad-Orbit IO-G mount adapter for GoPro action cameras. Here at Front End Audio a few of us recently picked up a couple of the newer Hero 7 Black GoPros – and they are cool. Once we got them, we knew we needed to get the IO-G, and we are glad we did. The Triad-Orbit IO-G allows you to mount your GoPro to any mic stand, with it's standard 5/8" female threading. Now add in the fact that it includes one of Triad-Orbit's quick change adapters (mounting head), you can mount and move your GoPro super fast on Triad-Orbit stands. All of this opens up a lot of possibilities.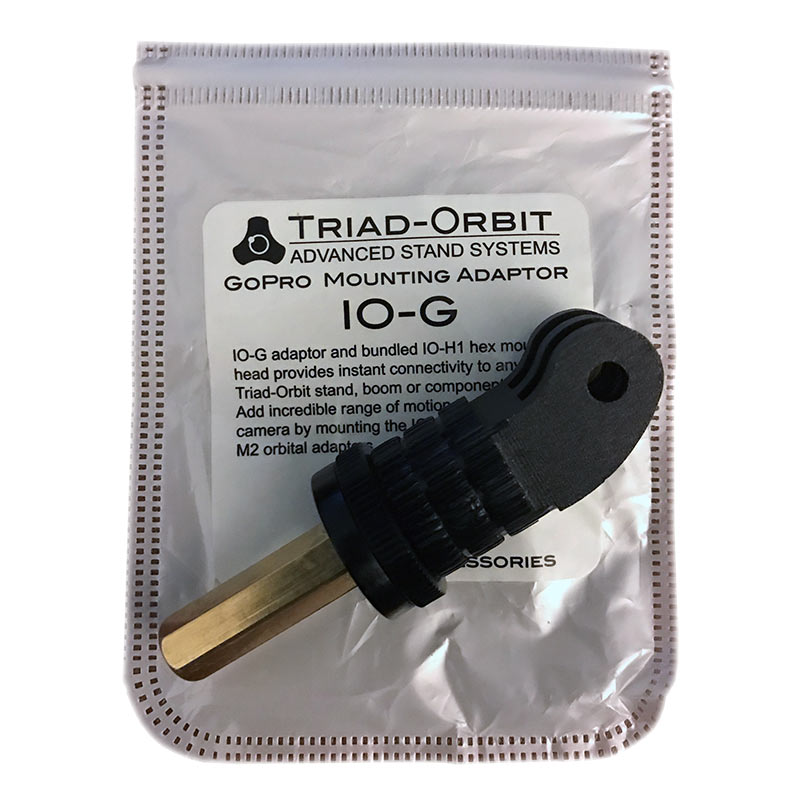 If you think about, you can really take a demo, lesson, music video, or live performance/live stream to a new level by utilizing the IO-G in unique ways. You can now get a GoPro in almost any position, from any angle – in a studio, on the stage, or at a shoot location. Just like the creative nature of Triad-Orbit, where you can have a mic and laptop mounted to the same mic stand for performances – where the laptop is easily controlled and can be used for play or backing tracks, or displaying set lists and lyrics, now you can mount a GoPro so you can have a shot of your audience from your POV on stage – that makes for a cool music video. And, being that the IO-G is an all metal designed mount, you know it can handle the wares of the road.