Singular Audio Tubedrve Mastering NOW at Front End Audio! Singular Audio announced today their newest product, but yet a very familiar device, the Singular Audio Tubedrve Mastering 500-Series Tube Saturator. This is the same great Tubedrve we all know, just with indented controls and extra low gain designed for mastering.
The Singular Audio Tubedrve utilises 2 pentode tubes per channel, for a total of 4 tubes per module. The first one is an EF86/6J32P and the second one a 6AS6/6J2P. The 6AS6 can be switched from pentode to triode operation. Triode mode provides a smoother type of overdrive with more 'even harmonics'. Pentode mode provides an aggressive distortion with more 'odd harmonics'. Switchable bypass and a mix knob for parallel processing provide pro audio requirements. The two channels are controlled independently from one another. The module can be controlled with an input or 'drive' level, controlling the audio signal going to the tubes. A bias control sets the operating point for the distortion tube, allowing the user to control the bias current. With high and low settings this introduces asymmetrical waveform clipping, providing a more aggressive sound.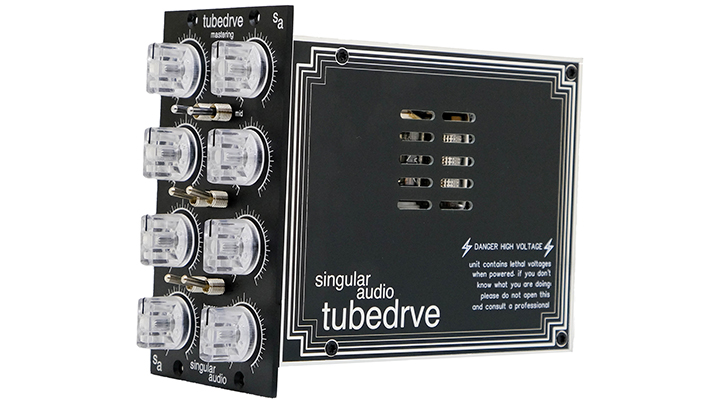 The mastering version features an extra low gain setting, allowing the overdrive to be dialed in more precisely: useful when using the module on a mix or stereo group. An output level control controls the level coming from the tubes. The mix knob provides full dry and wet operation, allowing for parallel processing. This is a great feature to have in a saturator since they tend to compress audio. Parallel processing allows the user to dial in the exact amount of saturation they want and provides full control over dynamics.