Introducing the new Universal Audio OX Stomp Guitar Pedal! The OX Stomp is a stereo guitar pedal that features dynamic speaker modeling for your guitar amps and modelers! It's packed with emulations of 22 speaker cabs, 6 vintage microphones, studio-quality reverb, delay, EQ, and even an 1176 compressor. All of these effects can be controlled with the UAFX Control App on your phone.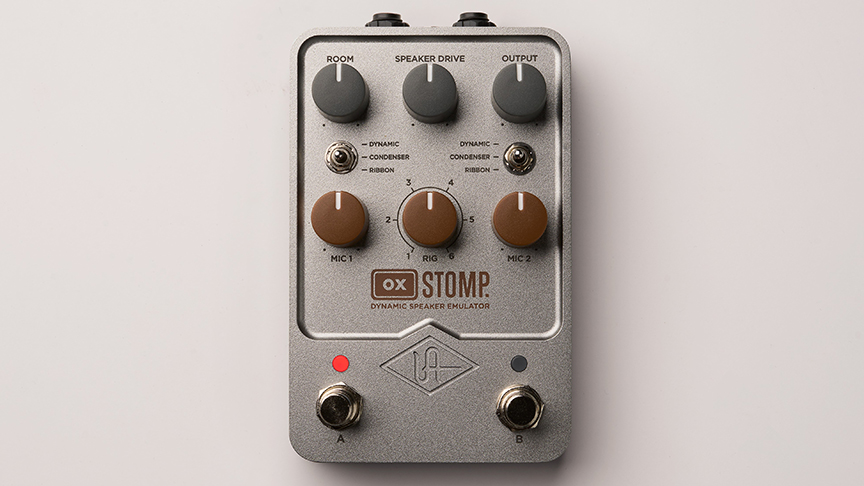 The technology in this pedal is based on the award winning Univeral Audio OX Amp Top Box. The OX Stomp pedal gives your "amp in a box" modelers a packed pro studio full of authentic sounding cabs, effects, and room emulations - right at your feet!

Universal Audio OX Stomp Guitar Pedal Features:
Authentic sounding speaker, cab, mic, and room tones

Authentic speaker modeling including speaker breakup, drive, and cone cry
Over 100 curated RIGs perfect for any amp emulator or genre for endless inspiration
Studio-quality effects including genuine UA 1176 compression, plate reverb, EQ, and stereo delay (dual, crossover, ping-pong) for perfectly produced tones
UAFX Control app for fine-tuning mics, effects, and footswitch configurations
Silent switching, buffered bypass, analog dry through
The Universal Audio OX Stomp Guitar Pedal is available now for purchase at Front End Audio! If you have any questions about the OX Stomp or any of Universal Audio's other products, give us a call! We're here to help.