Hands on with the IGS NE573 - Solid, Impressive and Authentic! It's no secret that IGS makes some fantastic clones, and furthermore - brings most of those clones to the 500-Series format. The IGS NE573 500-Series Preamp continues with that format trend. Of course, it doesn't take much to figure out that this is a classic Neve 1073 preamp. Being fans of that classic British sound, and what IGS consistently does so well, we couldn't wait to run some audio thru it. So we dropped it into our 500-Series rack, and broke out the mics!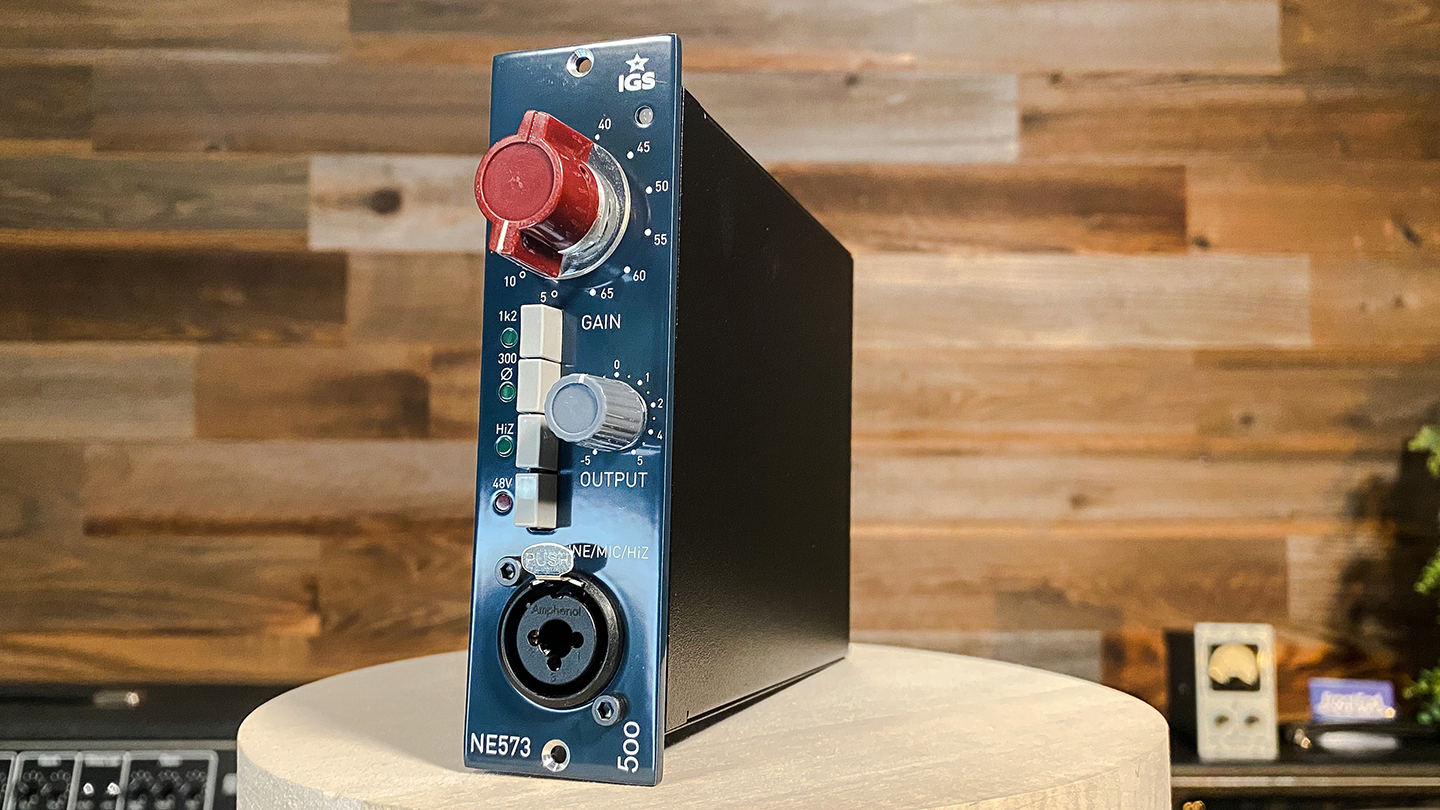 The IGS NE573 is a solid and impressive piece of equipment that captures the authentic sound and essence of the legendary Neve 1073 preamp. As soon as you lay your hands on this unit, you can feel the quality craftsmanship that has gone into its construction. The NE573 exudes a sense of confidence with its sturdy build and attention to detail, making it a reliable choice both in the studio and on stage. When it comes to performance, the NE573 truly shines. It delivers that distinct Neve sound with warmth, clarity, and a punchy low end that adds incredible depth. The preamplifier section brings out subtle nuances in vocals and instruments while retaining their natural character. It's like giving your sound an instant upgrade - everything just sounds bigger and better with this remarkable piece of gear. One aspect worth highlighting is the versatility of the NE573. While it excels at adding coloration to sources by imparting that classic Neve tone, it also has a transparent mode for those times when you simply want clean gain without any additional coloration. This flexibility ensures that the NE573 can fit seamlessly into any recording or mixing scenario, adapting to different musical styles and preferences.
So what is hands on with the IGS NE573 like? First off, the module is heavy. It is build strong, all knobs and buttons are solid, detents and steps are chunky, and it is loaded with Carnhill input and output transformers. Right off the bat, you know that IGS (in typical fashion) cut no corners, and put a lot into the design of this preamp. Being that Carnhill came out of St Ives (when St Ives closed up shop), and that St Ives Transformers are what were used in the 1073s, going with Carnhill is 100% the right move. That is the closest you are going to get to the originals. Not only did IGS set out to build a solid unit physically, they set out to create an authentic sound.
When we get to performance, the NE573 continues to impress. Of course a 1073 always pairs nicely with a U67, so we set up an ADK Hamburg 67 T-FET Microphone and tuned up the Taylor (this preamp also gets along very well with the Peluso 22 251 Tube Microphone). With acoustic guitar, vocals, and the two together, the results were smile inducing. There was a smooth richness to the overall sound, detailed (but slightly softened, or rounded) upper mids and transients, a present but natural and controlled bottom (so not boominess at all), and a massive weight in the mids and low mids. The fullness and woodiness it brought to the body of the acoustic, and the foundation it laid for a vocal was huge. Add a soft top and an overall dimensional sound, plus a hot output with super low self-noise (this preamp is dead quiet), you can have nothing but love for the NE573.
We always have high expectations for IGS products, and the NE573 did not disappoint. Whether on guitars (miked or DI'ed) – acoustic or electric, vocals, drums, it really doesn't matter the sound source. If you want a fat dimensional vintage sound, with plenty of transformer richness and modern no noise cleanliness; to add depth, punch, and an overall classic warm tone. You know, let's simplify that. If you want an amazingly solid and impressively authentic 1073 clone – get the IGS NE573.